What is the ruler archetype?
The Ruler Archetype tries to avoid disorder by gaining control of it. The Ruler works to obtain and maintain power, driven by the need for security and security. As a fan of politics, the Ruler is attracted to significant objects that are eternal and of high quality. This form of an archetype is used as a role model for others to imitate and encourage others to protect wealth and protection.
In industries like defense, technology, finance, and government, ruler brands are clearly evident. They are also ideal for any brand selling high-end goods or services. The marketing tactics that they use would cater to consumers' desire to be important, effective, and efficient.
The ruler archetype was created by Jung, who thought that rulers are powerful, care about wealth and prosperity more than they care about the compassion of others.

What are the other names for Ruler?
Sovereign
The Sovereign is kept loyal to tradition and is in the public eye. Although the Sovereign can slip into the pit of authorization, he has more duty and is trying to do so.
Judge
The judge uses judgment and experience to refute misconceptions that have to be justified and thus provide culture or circumstances with structure. In a balance between compassion and fairness, the Judge is committed to dialogue, study, and policy. It may, however, be seduced by force, so that the Judge can make a deliberate attempt to stay fair and unbiased.
Ambassador
The Ambassador, as a diplomat, works in the area of disputes. In order to restore peace on the shared ground, the diplomat handles dynamic situations and ties politically. The problem with this sub archetype is that its power can be exploited.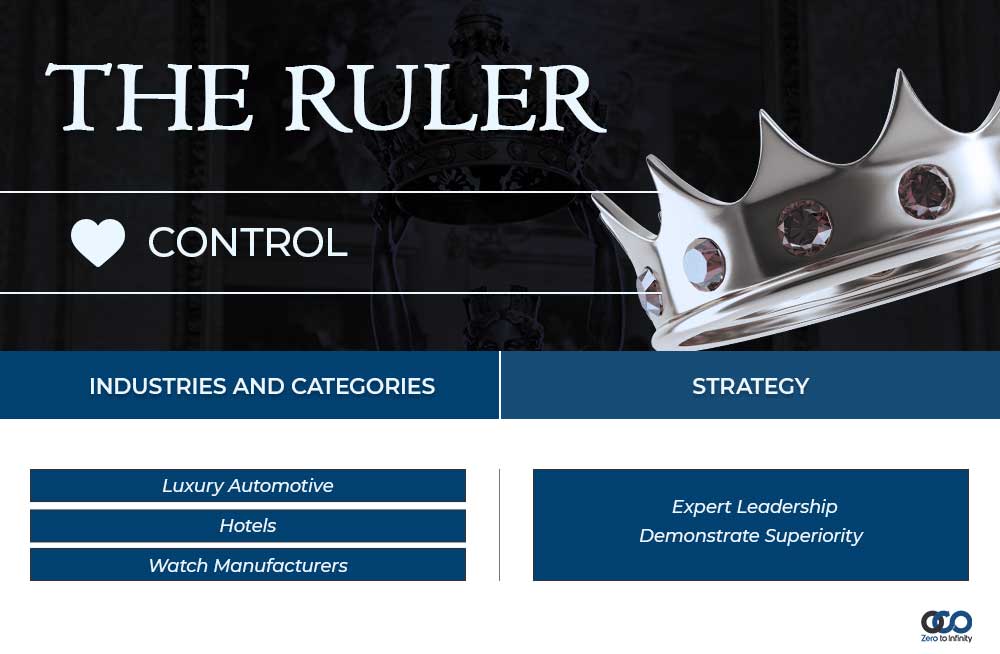 Patriarch
As head of the household, the Patriarch keeps order and defends their family. This archetype takes care of the people under it with leadership and bravery, encouraging security feelings. The Patriarch should however take caution not to enter a tyrannical leadership style.
What are the Ruler's brand archetype characteristics?
Wants to be in power
Wants to have complete control
Focused on goals
Sees themselves as the leader
What are the Ruler's brand archetype colors?
Gold
Silver/Light Gray
Black/Dark Gray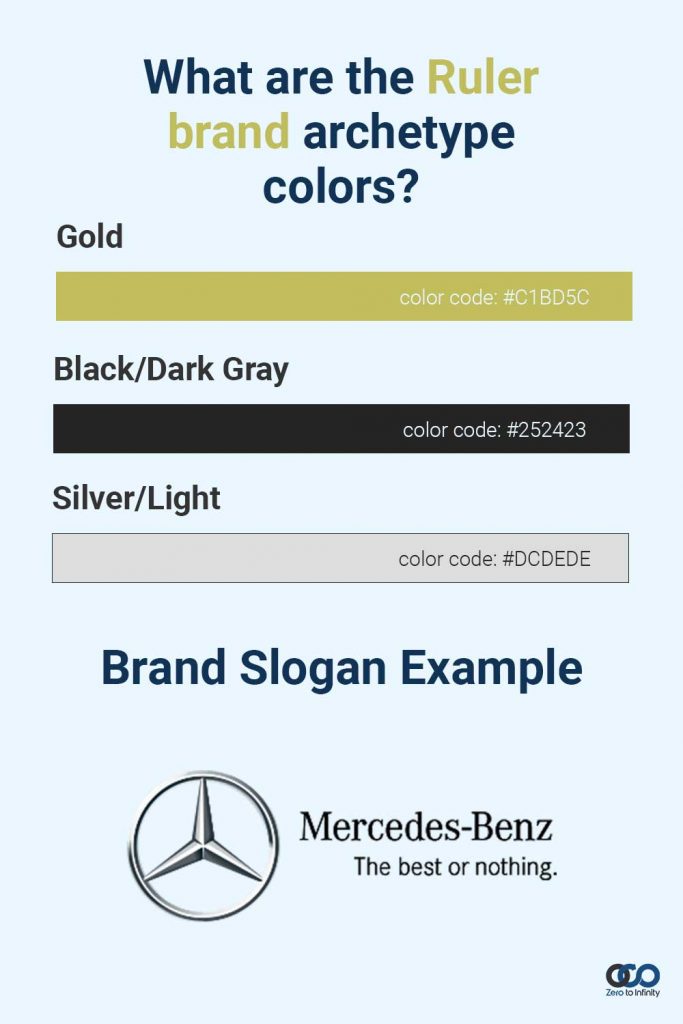 Brands such as Mercedes-Benz use silver and light gray to display their glamorous and sleek brand for their ruler archetype colors.
What is the Ruler's tone of voice?
Sometimes, ruler brands use polished, basic phrases vocabulary. Your voice is extremely sophisticated, powerful, and secure. They are behaving with a normal sense of authority that makes following them conveniently.
What are the Ruler brand archetype examples in literature?
King Aragon
King Aragorn is seen at the top of his arc—there is no tale to say after his ascension to the throne—but he represents all that is benevolent and strong. Give him a dark hand, and it will be King Arthur or Sauron himself, who fell to ruin.
Peter Pan
A good example of the Ruler is Peter Pan. He's entirely in charge of the Missing Boys, and the world he's presiding over. In reality, Captain Hook, his spoiler, is merely a shadow of what he was/was to become if he had completely grown up. And when the new children (especially Wendy) appear to gain more respect than him, his shadow side appears, Pan performs cruel pranks to lower the standing of interlopers in the eyes of his followers.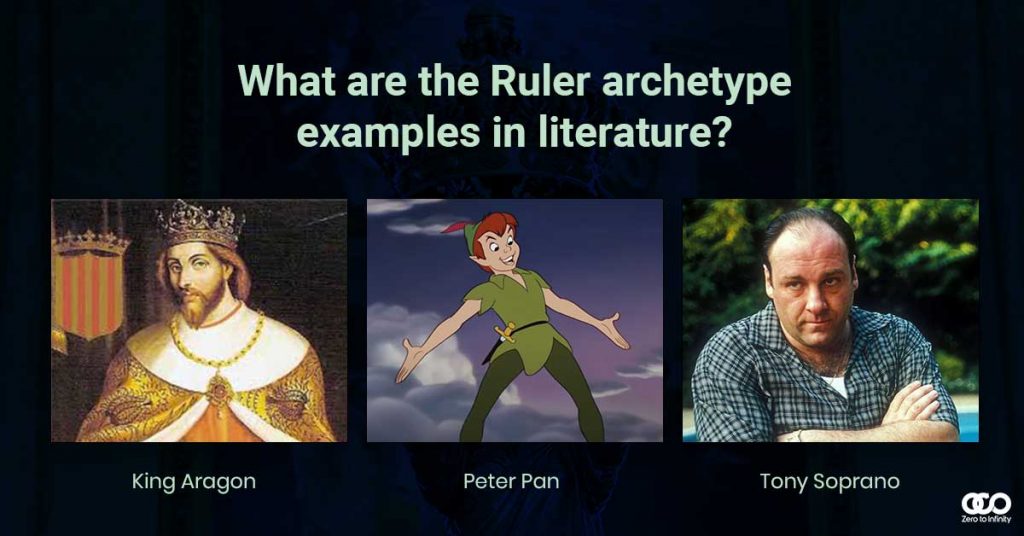 Tony Soprano
Like other mob bosses, Tony Soprano must keep his subtleties close. Every vulnerability would be manipulated, and so, while he (at heart) doesn't want to do anything in the interests of protecting his territories and his place in the gang, he does so anyway.
What are the Ruler archetype examples (brands)?
Qantas airlines
Qantas is a prominent air travel leader. Qantas was the safest carrier awarded by airlineratings.com for many years in a row. Over the years, Qantas has never been a safety problem of one of the biggest carriers in the world. Qantas has been able to legitimately brag about being one of the safest airlines out there which makes them a Ruler archetype.
Microsoft
Since Bill Gates started the business, Microsoft is growing steadily. They were deemed unfaithful and predatory in their early rise to power by virtue of their aggressive strategic development. With the age of Microsoft, they are less a tyrant than a pioneer in their profession. Some also claim that Microsoft is further expanding its monopoly, though.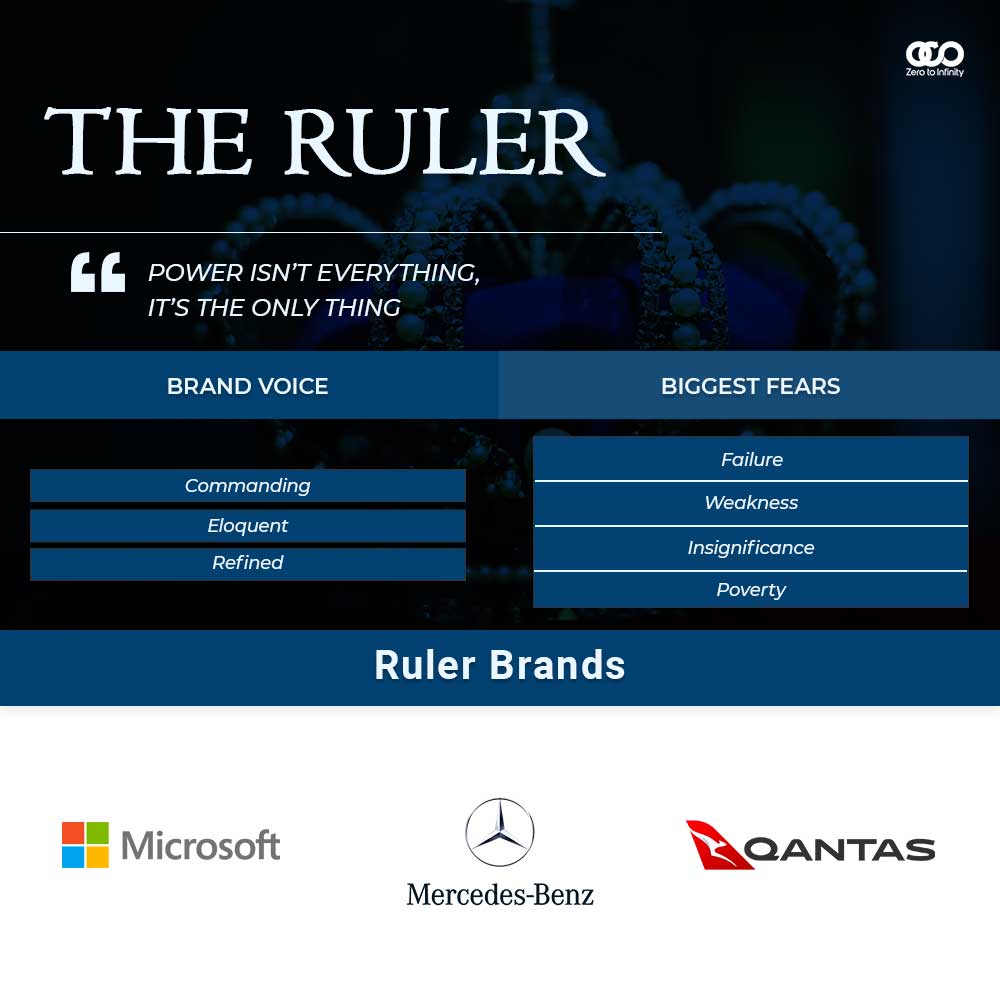 Verizon Wireless
"There is just one number one," Verizon says and they are. They justify this argument using reliable and accurate evidence in the archetype of the dictator. Over the years, though, they have faced very bad publicity on semi-tyrannical conduct and harassing the little guys.
Rolex
Rolex projects the impression that the champions are those who wear their watches. Their announcements are success stories and pride. The use of a Rolex reminds you of your perceived rank and power.
Rolex succeeded in attracting the Ruler form of people and thus in harmonizing the archetype by keeping the brand solely and pricey. This brought Rolex an archetypal taste of its own.
Mercedes-Benz
All of this is said in their motto, 'The best or nothing.'
When you drive up in a Mercedes, the people around you immediately get an idea of your financial status. The quiet projection of authority is what the brand of rulers is all about.
What are Ruler's customers like?
Ruler's consumers like the high-end luxury of the Ruler brand, it attracts the drive we would all succeed. You sound as if you have met the perfect coach to teach you the road to success.
Summary
Do you sell goods of a high standard? Or are you promising protection and safety? You're a pioneer in the market? Or is your long-term market domination plan? Will you want organizations that are strongly structured? Are you in your business or culture with a regulatory function? You are most likely a Ruler brand if you can answer these questions with ease and confidence.