Intro to Brand Story
When you think of a brand story, you think of the history of the company. It's not exactly the main definition of a brand story, but it's a part of it. In fact, a brand story should be much bigger than that.
What is a brand story you may ask? A brand story is a consistent story that is based on feelings and the "why" a business started the brand. When it comes to brand stories, it must appeal to the emotional sides of customers. Your narrative exists whether or not you want it to because as long you are a business, people will feel something towards that.
We will use Chipotle as an example of a brand story. They say they only want to serve good food, so good that they have relationships with farmers. *In the past, the previous owners used heavily processed food* They wanted you to have that fancy dine-in experience while eating in a casual fast-food restaurant. They tell their story via films that make the viewers understand their story even more. It is their way of connecting with the audience with their brand story.
Now we will look into all the elements that make up a brand story.
How do you identify a compelling brand story?
Here are some tips on how to write a brand story and identify a brand story:
Know yourself:
This is the most important part of a compelling brand story. You need to figure out who you are so that you'll have a story to tell. It also includes listening to your targeted audience, checking out your competitors, and making sure everyone on your team stands for the same values that you share.
Make sure your vision is clear:
You've figured out what your brand identity is, now it's time to show people what your brand story is all about. Having a vision statement, such as a short video that tells your brand story will go a long way with your customers.
Audience:
Now that you have a story to tell, you need to find your audience. This is a good time to do research on your future targeted audience so you'll know how to tell your story to them. You will have to work hard on relationships with the audience because once that connection is made, it's to be cherished.
Narrow it down:
Your brand may have a lot of traits, but there may be certain traits that your audience will like. Those are the traits that you need to focus on, so you can provide that connection the audience is looking for.
Narratives are important:
Do you have a stand-alone story or a wide collection of stories? You can use real-life people to tell your story because brands that use real people are likely to have an audience that believes them.
Simple is best:
Keeping it simple is best because you don't want to be all over the place while telling your brand story. Having a clear, simple story to your core is what will win the audience over.
Be relatable:
No one wants to listen to a person who just sells. There needs to be a human behind a brand, especially a brand story. This is a perfect opportunity to embrace your persona and show it off to your audience.
Don't Proclaim without it:
A brand should not be pushing out any sort of marketing unless they have a story behind them. The reason is, it would be very confusing and inconsistent with what you're trying to tell your prospective customers.
Now you know what it takes to write and build a brand story. You can also use a brand story template that you can find online so that you can base your storytelling on that.
How do you identify a business story?
Focused:
You will see in business stories that they are focused and engaging. The story makes sense to the audience. The audience knows why they told the story. The audience is engaged from the beginning to the end.
Authenticity:
Lying from the start, your audience will catch you if you do and you won't be successful. It's usually in a business's best interests to be authentic, and that's what you'll see in business stories. There is transparency and a human (or people) behind that story you've just read.
The Outcome Needs To Be Clear:
When you read a great business story by Microsoft, you are left with something. You understood why Microsoft came to be, and you were not confused at all. That story gave you an idea of who they are and where they come from. This is the kind of message that an audience needs to see from a business.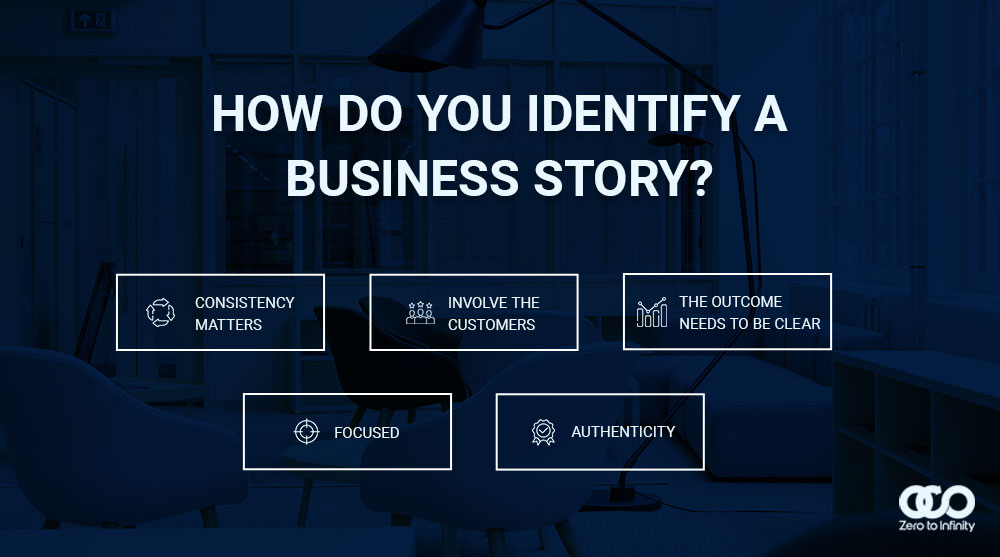 Consistency Matters:
You'll never see a large corporation with a confusing brand story. If you did, they probably wouldn't have customers or be in business today. It takes practice to tell your story and you have to get it right.
Involve the Customers:
Customers love being a part of a good brand story. Take a look at this clothing brand story by Nike for example. They involve celebrities but they also involve regular people in their ads and such. Their story started with a coach and a student. Now they are the most successful clothing brand in the world because of their own brand story that started out with regular people. Customers are regular people.
How do you write a good product story?
Think like a customer:
It would be best to describe it like they would in a review that customers leave online for products.
Set the scene:
Don't be technical, talking about how it functions. Tell the audience how it would impact their day-to-day life. If a customer can imagine it the way you wrote it, then it's a pretty compelling story.
Be ready to answer questions:
When a customer is confused, whether, at a store or online, they might have questions. It's definitely a good idea to have all the answers to the questions they will ask about your product.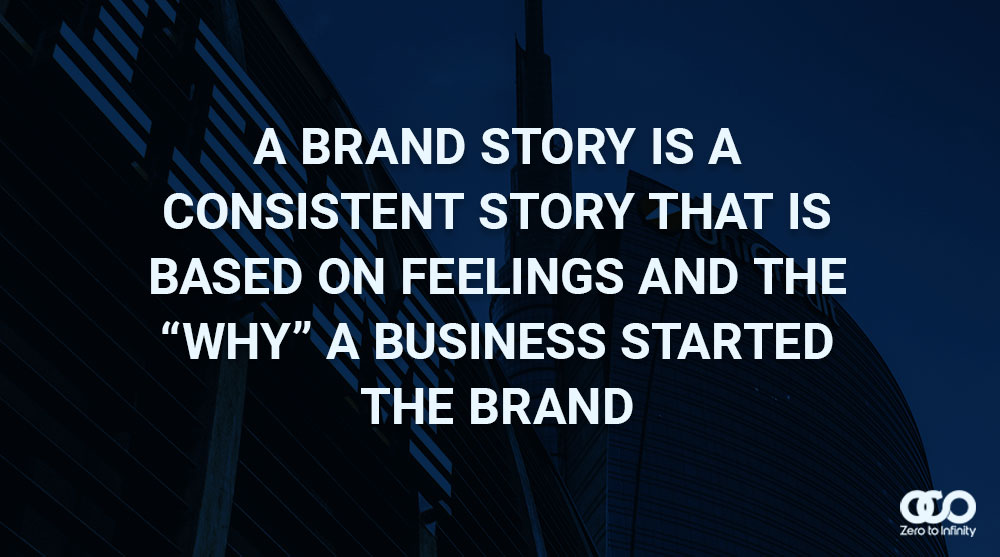 Easy to read descriptions:
Your product description should be very easy to read. If it's all technical, customers may move on to another product.
Actions speak louder than words:
If you are going to brag how high quality says your custom-made t-shirts are, talk about the materials, show a video to convince customers of its high quality. Take close-up pictures of the said product.
Proofreading Matters:
It's easy to just write and then publish. But if you have many grammatical errors, spelling errors, you may have a hard time getting customers to buy from you.
Those tips are what it takes to write a good product story that will convince your customers to buy your products from you for a long time.
Why is a brand story important?
A brand story is important because customers want to know who you really are and why you are a brand. Customers are emotional human beings (just like everyone else) and they base it on how they feel about that story. Every child loved a bedtime story because of the same feeling.
Here is a personal brand story example for inspiration. We will use Neil Patel as an example. He is one of the most successful digital marketers on the internet today. From a young age, he grew up in a normal family and was always a hard worker from a young age. He had a bunch of failures (like any of the digital marketing "gurus" did) but he became very successful as he worked his way up. Today he helps others like himself to be the best marketers they can be and regularly updates his blog. When you read that story, especially a personal one, you are drawn in and amazed how Neil went from nothing to one of the world's top digital marketers. Personal stories like this will make any brand successful, whether you are a person or a company.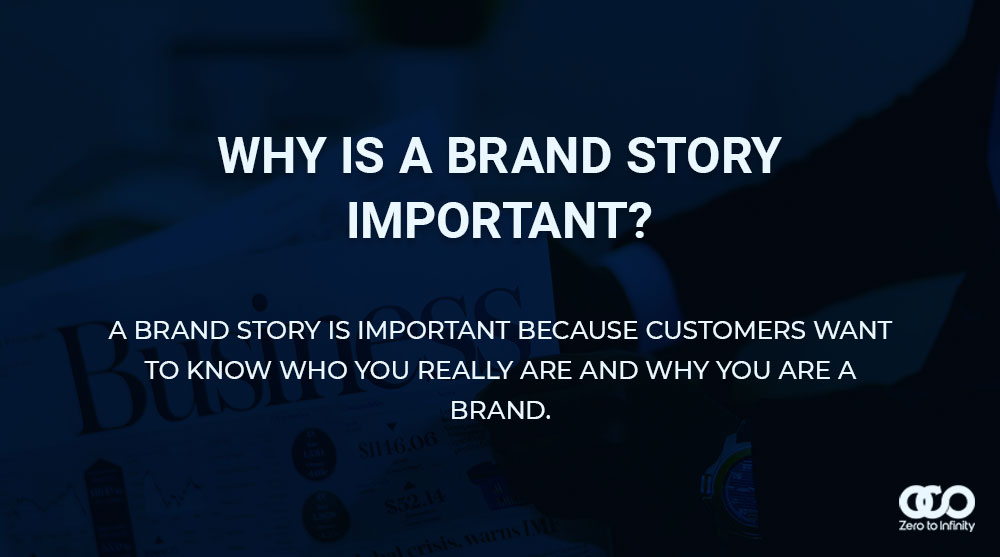 Now you may be stuck for some brand story ideas, so here are some ideas that can help get the creative juices going:
Why did you start your company?
Is your company associated with anything?
Is your company associated with location?
Is your company a part of a special cause?
Did someone inspire you?
Is there a story behind your logo?
How did your products come to life?
Those are just some of the ideas that you can use to create your brand story. Of course, you'll have to figure out what inspired you in the first place, but when you do, it'll be much easier to write your brand story.
How do brands use storytelling?
Brands use storytelling via marketing, their advertising, and sometimes via their products. Whichever one piques the interest of their customers, it's the one they'll use.
The takeaway
Brand stories are what help products sell. Without a story, customers don't feel inclined to buy anything from that brand. No one will buy from a "mysterious" brand because we need to feel comfortable if we are buying anything.
Now that you know all the basics of a brand story, go take a pen and write yours today.